The "Go Book"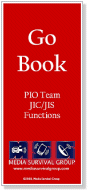 Each participant in the workshop will receive their own "Go Book" for use in JIC and JIS situations.
It's small (3.5" x 8") but powerful! The "Go Book" is hot off the presses and ready for your next JIC/JIS. Just slip it into your shirt pocket as you go out the door and you'll be able to hit the ground running!
The "Go Book" is the companion to the "Workbook" used in Media Survival Group's PIO Team JIC/JIS Workshop. It contains step-by-step details on each function of a JIC/JIS and will assist you throughout your career whenever you're called upon to work in a joint information environment.
Go Book Wins Crystal Award!
SACRAMENTO - The International Association of Business Communicators (IABC) has awarded the coveted 2009 Crystal Award to Media Survival Group for the Go Book.
It not only acts as a checklist for setting up a Joint Information Center and keeping it running, but also serves as a tool to document your organization's efforts in the crisis response.
A copy of the "Go Book" is provided to each participant in Media Survival Group's PIO Team JIC/JIS Workshop and you can order additional copies for you and your organization by contacting us at:
Purchase Additional Go Books:
The Go Book is not intended to be a substitute for training. It presents a layout of the functions of a JIC/JIS and a series of detailed checklists to help guide you through an actual JIC/JIS. We strongly recommend that you take the PIO Team JIC/JIS Workshop, where each attendee receives their own Go Book, and that you order additional Go Books as needed.
| | |
| --- | --- |
| Quantity | Cost* |
| 1-10 | $20 each |
| 11-25 | $17.50 each |
| more than 25 | $15.00 each |
*includes shipping and sales tax